Twitter is making headlines again this morning with a sweeping ban on Christian and conservative accounts on the platform. Twitter made the announcement after it banned 7,000 accounts and limited 150,000 more. The twitter statement says the company is "taking action on so-called 'QAnon' activity across the service. We will permanently suspend accounts tweeting about these topics."
Twitter says the banned users are violating the "multi-account policy, coordinating abuse around individual victims, or are attempting to evade a previous suspension." The site failed to provide any examples or evidence of this abuse. Twitter also unusually applied policy violations to an enormous group of users, rather than just accounts committing abuse.
Twitter has just faced a massive attack where many high-profile accounts, including Joe Biden, Elon Musk, Apple and others were taken over to shill for bitcoin donations. The hackers released screenshots of the administration panel that showed special functions to whitelist and blacklist users.
The move comes after Hollywoods Chrissy Tiegen had her Twitter account history exposed online. Twitter users went through her history exposing all kinds of sick and unusual tweets. She had tweeted about sexually abusing children, eating human flesh, and pedophilia.
Chrissy Tiegen had a massive outburst. She blocked more than a million users, deleted more than 60,000 tweets, and later made her account private. She cried out publicly finally she insisted that Twitter take action saying "If twitter doesn't do something about this *actually scary* harassment, I am gonna have to go."
She explains that she's been photoshopped into images and wrongly accused of being involved with sex crimes associated Jeffrey Epstein and Ghislaine Maxwell. She says she has to read "many times a day" that she and her husband, John Legend "are pedophiles." The photos show her and Legend on Epstein island.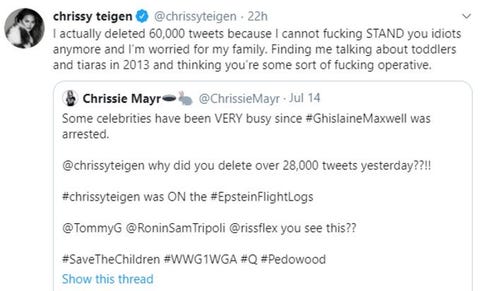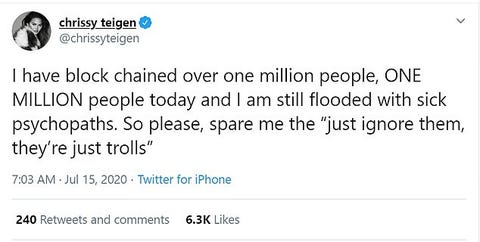 This massive purge along political lines comes weeks after Twitter hired deep-state ex-FBI James Baker as a their head lawyer. Twitter has been expanding it's legal team as it moves into an uncertain future. Social media companies have been under intense scrutiny as they ride the line as a public platform while exercising editorial control. Twitter, Facebook, and others are at risk of losing special protections granted by Section 230 of the Communications Decency Act.
Section 230 immunity allows some online sites to exist as platforms and avoid responsibility for the content users post within. In exchange for acting as a utility and being open to everyone, they are granted protection from being liable for the content of their user's posts. The immunity was meant to nurture emerging internet businesses and to overrule a judicial precedent that rendered online platforms liable for all third party content on their services if they restricted any harmful content at all.
Critics have pointed out that Facebook, Twitter, Google and others have engaged in rampant censorship and implicit bias. All kinds of users, including President Donald Trump, have experienced hiding of their posts and accuracy warnings. Google is in a nasty spat with Zerohedge and The Federalist over demonetization from the Google Ads program, citing lack of moderated comments.