A deal has been struck between local, state, and federal leaders to try and solve the unrest and riots in Portland. The federal officers will be leaving the area under the agreement that the local and state police forces will enforce the law. The White House has said if there's not a significant decline within one week they will return and end the riots with federal officers.
The Department of Homeland Security describes an agreement with the Governor of Oregon, Kate Brown. The Acting Secretary of the Department, Chad Wolf, says the agreement is tentative based on how the situation goes.
"Over the past 24 hours, Governor Brown and I have been in regular communication and have agreed to a joint plan to end the violent activity in Portland directed at federal properties and law enforcement,"

"That plan includes a robust presence of Oregon State Police in downtown Portland. State and local law enforcement will begin securing properties and streets, especially those surrounding federal properties, that have been under nightly attack for the past two months."

Department of Homeland Security, Chad Wolf
The Seattle Mayor Durkan is facing a recall effort for her handling of the autonomous zone that arose in that city. After police abandoned a precinct and the rioters took over the territory. Jenny Durkan, had taken a hands-off approach to the riots and protests in the city. Instead of continuing to enforce laws and allow peaceful protests the Mayor chose to have her authorities stand down.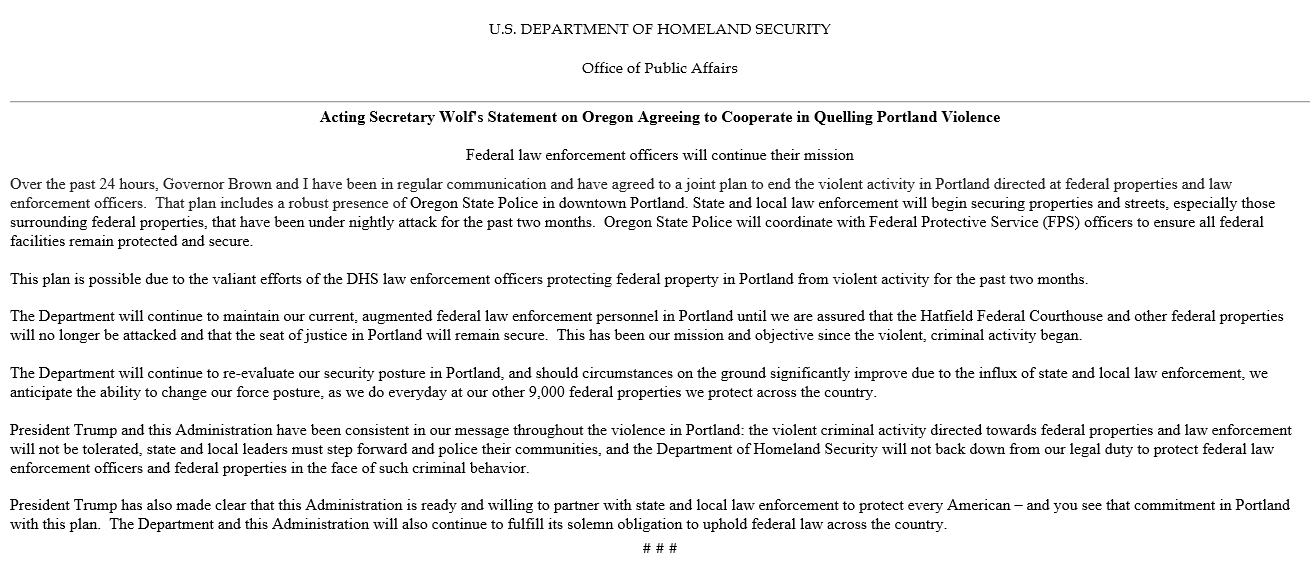 There has been constant dispute over the Government's response to civil unrest in Seattle and Portland. The autonomous zone met a disastrous end after several shootings and deaths. That zone was eventually taken over by Seattle Police after the city was hit with numerous lawsuits. Since then, Portland has flared up as the focal point.
Portland has seen enduring riots that ramp up after the sun goes down and protesters go home. Violent activists attack government buildings and officers relentlessly. Several fires have been set and put out at the federal courthouse and officers stationed inside have faced the reality of being burned alive or facing a riotous mob.
Oregon and Washington have been having particularly bad experiences with race riots in 2020 due to failures in local leadership. Alternative powers have taken control and directly challenge US authority.. The organizer of one group, Lilith Sinclair, has made her plans for a final solution abundantly clear. She says without mixing words that her group's mission is "abolition of the United States as we know it."
Federal officers stood strong against rioters who continuously try to breach into the building night after night. Many of those officers have faced serious, often life changing injuries. Typically local authorities handle any type of unrest but in the absence of local or state police the federal government has stepping in to protect courthouses and other federal property.